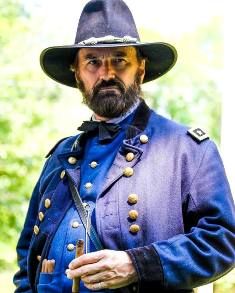 After the first of the year, in 2016, lessons about the Civil War by General U. S. Grant will be available here on We The Kids.
This video is a preview of Civil War information to come on We The Kids in my Civil War lessons. I am excited about being able to teach the War to an eager audience!
I have the honor to remain,
your most ob't and dedicat'd serv't,
The lessons will run from 10 to 30 minutes and will address: People, Places, Battles/Campaigns, the Home Front (both North and South), Politics (both North and South).
Preferred topics should be sent to We The Kids for the General to address specifically in order to cover questions on standardized tests in History/Social Studies.
I have the honor to remain,
your most dedicat'd and devot'd serv't,
U. S. Grant
Lieutenant General
WE THE KIDS would like to Introduce,  Dr. E. C. (Curt) Fields, Jr.,  Memphis,  TN
Dr. Fields holds a Bachelor and Master's degrees in Education from the University of Memphis. He later earned a Master's degree in Secondary Education and Ph.D. in Educational Administration and Curriculum from Michigan State University. He is a career educator having taught for eight years at the Junior and Senior high school levels; then served for 25 years as a high school administrator. He teaches as an adjunct Sociology Professor at the University of Memphis and in Education for Belhaven University, Memphis campus.