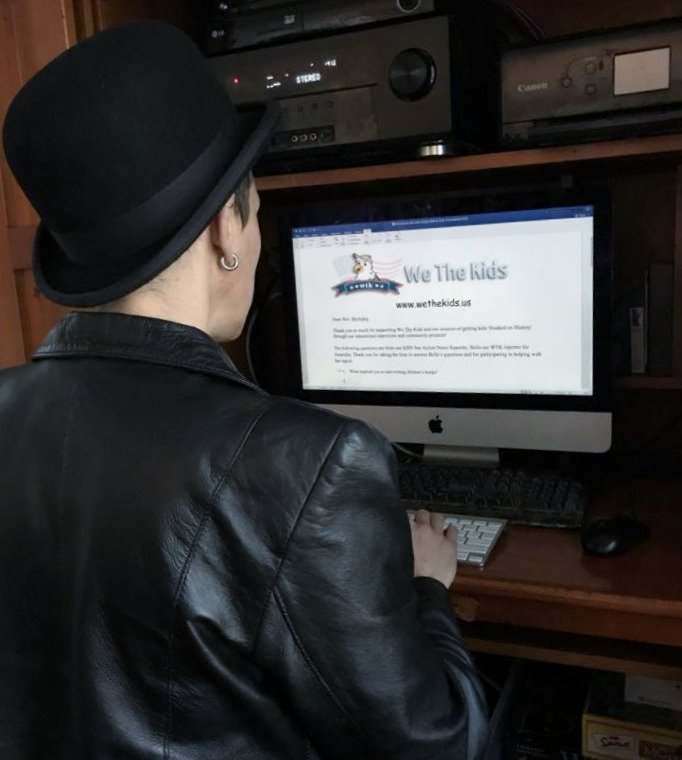 The Four Fingered Man by Author Rowan Mc Auley
I was given a great opportunity to read a new book by Rowan McAuley, The Four Fingered Man. Rowan even signed a personalized copy of the book for me, and I was excited to be able to interview her too.
If you love science fiction then this is the book for you. Full of surprises that kept me turning the pages. This book had an unexpected twist at the end that left me shocked and amazed.
Once I picked this book up I couldn't put it down. I would recommend it to anyone that enjoys reading something out of the ordinary.
Bella, KBN See Action News Kid Reporter Australia for WE THE KIDS.
Reviewed by Mrs. Pat Collins:
Bella has conducted an interesting & informative interview with popular author Rowan McAuley. A very well thought out interview. Very proud of our first Aussie WTK reporter.
Regards,
Mrs. Pat Collins / International Basketball Official, Basketball Coach & Educator- Australia
Hi Bella,
Nice to hear from you. Well, I'll start off by saying I'm not a Mrs McAuley. McAuley is my maiden name, so you can call me Rowan, or if you want to use a title, then Ms McAuley or Dr McAuley are more correct. I appreciate your excellent manners, but Rowan is really fine by me.
SO, TO THE QUESTIONS:
Q. Bella – What inspired you to start writing children's books?
A. Rowan – Reading!
I love reading, and as a kid read and read as much as I could. Then I did English literature at university, which was a lot more reading, and of course, writing about what I'd read. At the end of my study, I was an excellent reader, and I knew what I wanted to read — it was only a short step to deciding to start writing what I wanted to read myself. And of course, writing is very simple — you don't need anyone's permission to start writing, you just need a pen and paper and some time to yourself. So that's where I began.
Q. Bella – What was your favorite book as a child?
A. Rowan – I had many favourites — all of C.S. Lewis, all of Roald Dahl, I loved Lewis Carroll — not just the Alice books, but Sylvie and Bruno, too — and of course, everyone at school read the Judy Blume books.
Q. Bella – Do you have any plans to turn your books into TV series or films?
A. Rowan – This isn't up to me. The publishers sometimes get approached by TV producers. Most of the time, producers might pay for an 'option' on a book, which buys them exclusive rights to the idea for a period of time, but more often than not, the program doesn't get made. I don't have any plans for trying to do it myself. I far prefer making up the stories on paper.
Q. Bella – What is your favorite book that you have written?
A. Rowan -I think maybe The New Girl is my favourite solo book, because it's about a girl who is being bullied and has to decide whether to become aggressive and mean in order to stand up to her bully, or believe that there is another way. I also wrote The Big Split which was about two girls whose parents get divorced. A friend told me that book has been very helpful for her own daughter, and I feel very grateful that something I wrote could be useful in real life for one of my readers. Having said that, I had so much fun working with Chris and David on The Gateway series, and all eight of those books are in the top 10 of my favourite writing jobs ever.
Q. Bella – Do you have any children and are any of the books based on them?
A. Rowan – I do have children, but no, I don't use them for my books.
Q. Bella – What do you think your next book will be about?
A. Rowan – I hope we will get to do some more books in The Gateway series, but I think my next solo project will be a novel for older readers. We will see!

Q. Bella – How do you come up with the ideas for your books?
A. Rowan -Just being interested in what's going on in the world brings hundreds of new ideas. Paying attention to people around you, or what's in the paper, or something strange that you learn about science or history, or something that happens in a book you're reading that makes you wonder about how the story would have been different if one or two crucial details were different… It's not very hard to have ideas for where a story might begin. The real job is deciding which idea has the strength to stay interesting for a whole book.
Q. Bella – When did you have your first book published?
A. Rowan – 2005
Q. Bella – How many books have you sold in total?
A. Rowan -I'm not sure. The last time I knew, it was over 250,000, but that was several years ago.
Q. Bella –  Is there any advice you can offer to young budding authors?
A. Rowan -Read and read and read! The more you read, the more you will understand how language and story work, and how different writers have very different styles and ways of bringing a story to life. The more you read, the more you will be able to bring to your own writing. —
Right! All done. Let me know if there is anything else I can do for you.
Best wishes,
Rowan
More about our author Rowan!
Hello there!
If you're on this page, then you probably already know that I write kids' books. If you recognise my name, you're probably a Go Girl reader – the books I've written in that series are published under my real name, Rowan McAuley.
If you don't recognise my name and wonder how you ended up here, you might be a Gateway reader – these books are written as part of a team, with Chris Morphew and David Harding, under the pen name Cerberus Jones. (And if you're a fan of the Percy Jackson stories, or just a Greek mythology buff, you probably can guess why we chose Cerberus.)
I live in Sydney, read as many graphic novels as I can, and like to make things with my hands, whether crocheting while I'm watching TV, or sculpting out of polymer clay or plasticine. My favourite books are by C.S. Lewis (The Narnia Chronicles, The Cosmic Trilogy, The Screwtape Letters, and his essays, too), Roald Dahl (The Witches was the first truly scary book I read), Charlotte Bronte (Jane Eyre is basically the perfect novel), and Georges Perec (if you're still in primary school, wait a bit because his novels are very peculiar – A Void is an entire book written without a single letter E! And he doesn't cheat by spelling things incorrectly, either).
You can find me on Facebook – here is me blathering on, mostly about books I've read, and here is the Gateway page. The Gateway also has an Instagram account.
xxRowan