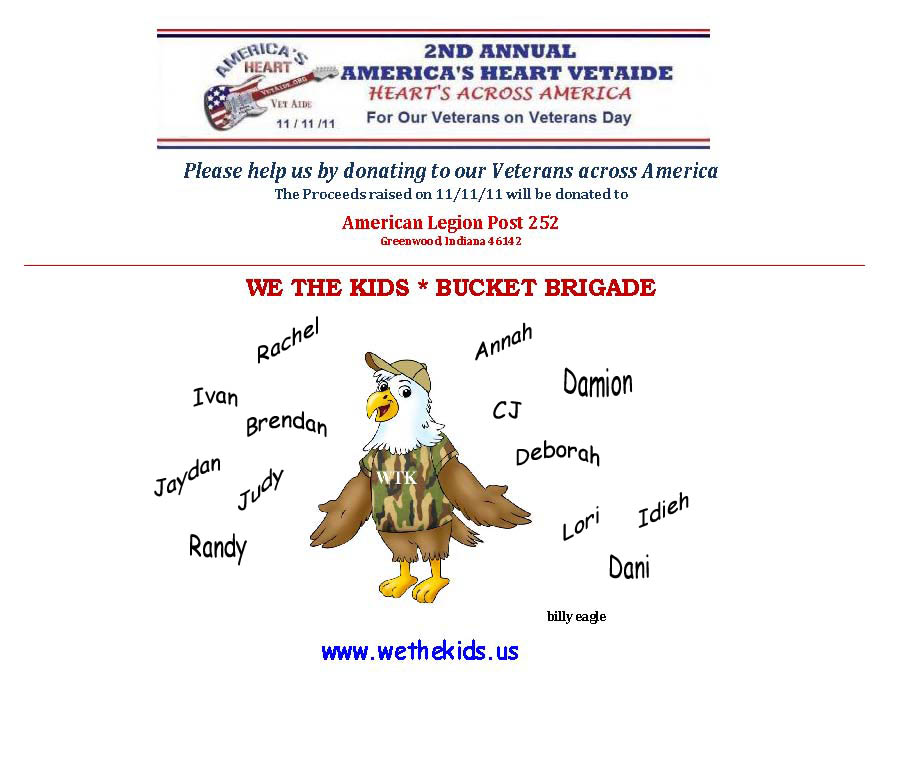 WE THE KIDS – INDIANA
American Legion Post 252
334 South US 31 Greenwood,
Indiana 46142
POST HISTORY
Post 252 was originally established on Main Street in Greenwood, Indiana.  The original charter for the post was granted on the 25th Day of October, 1920.  That amounts to more than 86 years of dedication and
service to our veterans and our community.  In it's present location, the post was incorporated August 26, 1950 continuing a legacy of service to our veterans and the Greenwood Community.
WE THE KIDS – INDIANA joins a Nationwide Major Event for our Troops and Veterans on Veterans Day. Americans on 11/11/11 will make a grand gesture to raise funds to assist our Veterans and Troops in a simultaneous musical event that will take place across the country in bars, restaurants, VFW halls and other venues with Live performances, bake sales, yard sales and  more.  WE THE KIDS bucket brigade will have bucket's placed at various places throughout South Bend and Elkhart.  The funds are to benefit our Local U.S. Veterans and their families. HEARTS ACROSS AMERICA was organized by Founder / President Karen Nesnick  to raise funds for Our U.S. Troops and Veterans by Supporting the 501C3 Organizations that support them in an Annual Nationwide Event.
America's Heart Vet Aide Inc. first annual event on 10/10/10 raised funds for The Forgotten Heroes, the Heart of a Marine Foundation, M-Power, PFC Geoffrey Morris Memorial Foundation and the USO.
The Florida effort is being directed by Karen Nesnick of Jacksonville, Florida (founder@vetaide.org)
Our Goal
Our 1st Location will be a Thrift Store Open to the General Public in Jacksonville ,Florida
All Proceeds from the Store will benefit the U.S. Veterans and their Families. The General Public will be able to purchase merchandise at the store at a discounted rate.
The U.S. Troops and Veterans will be able to come in and register by submitting documentation that they are Active Duty  or Veterans in a Branch of the U.S. Military The registered Service Men and Service Women will be entitled to receive Non Perishable Food, Clothing, House wares,  and School Supplies for themselves as well as their Families at No Cost on a weekly or monthly basis depending on their personal situations.
After they have received their   allotted amount they will be able to purchase anything from the
store for a 50 % discount at any time. They will also be able to apply for various   financial assistance with everyday situations that incur such as home necessary improvements, utility payments ,rent  to name a few. America's Heart Vet Aide intends to open a Store in Various different Major U.S. Cities across the U.S.A.  Help us achieve Our Goal by Donating today! HEARTS ACROSS AMERICA –  www.vetaide.org