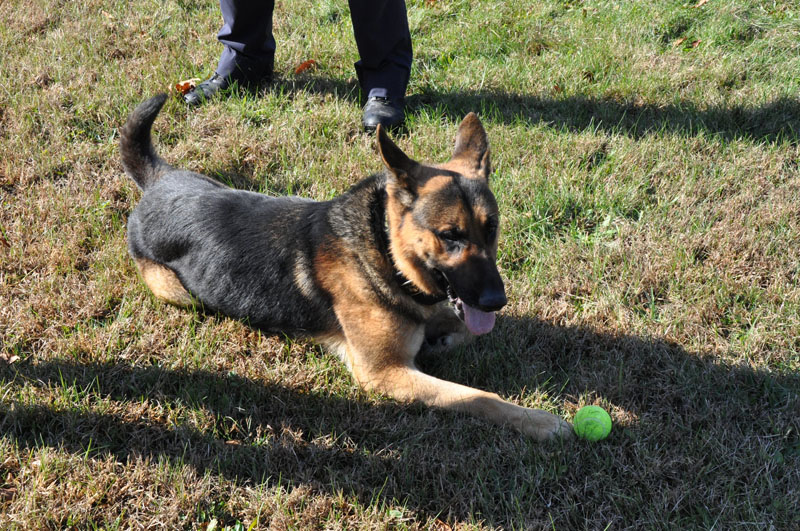 Written by Rachel Ann S.
K9-Police Dogs
South Bend, IN: Local news
I met with Sergeant Dan Demler, and Corporal Bryan Miller. Dan and Bryan are K9 trainers with the South Bend, Police Department. We talked about how K9s are chosen, training for them, types of dogs, and the "traits", or "drives" of the K9s. After the meeting was fun too.
Usually the dogs are gotten from different kennels around the country. Most of the dogs, like the German Shepherd or the Belgian Malinois, are imported from Europe! When choosing a K9 officer, officers like Dan and Bryan look for the want for the tennis ball. If an officer threw the ball, no matter where it may be, the K9 will chase it. If that particular K9 looks for the ball for a couple seconds and gives up, he won't be as strongly considered. The officers also look for strong drives in the dog.
There are three main drives, or traits, that the dogs need to have — the prey drive, the defense drive, and social stability. When picking a dog, the officers want a dog that can hunt down its prey, can defend when needed, and can be taken to a school of little kids and stay calm. Very rarely are dogs like this found. Sometimes up to 60 dogs are looked at and out of those maybe 2 or 3 dogs are chosen. Sometimes none of them are good for the job! There are three main dogs used in the police force.
The main dogs used are German Shepherds, Labs, and Belgian Malinios. The German Shepherds are commonly known as the police departments 4 legged officers. They are known for their intelligence, strength, and high train-ability. Like any other dog, they are very playful dogs. Labrador retrievers are 1 of 2 other largely used dogs in the police force. The Labs are mostly used as bomb dogs, service dogs and narcotics dogs. Labs are a sensitive and caring dog to have.
The Belgian Malinois are the official dogs used for the secret service, military and U.S police forces. The Belgian Malinios are beautiful dogs! They live around 12 to 14 years as most other larger dogs.
After the meeting with Dan and Bryan and talking about the K9s, I got to go outside and see 2 amazing K9 officers! Cooper and Boss are both German Shepherd. Both are beautiful and amazing K9s! Cooper is a 2 and a half year old K9. I got to watch Dan work with him. Cooper was so attentive and so patient. He listened so well! After a couple pictures with Cooper, I got to see Bryan's K9 Boss. Boss is 7 years old. I didn't see Bryan work with Boss but I got pictures with Boss too. Little Sophia is Bryan's little beagle. She is not a police dog but she tries to be. We threw the ball for Boss and she tried to catch up with him and get the ball.
My meet with Dan and Bryan was so much fun! Learning about the dogs and seeing some things done with them was really cool. Police dogs are just as important as an officer him self. K9s are all very smart and they love playing. The process of finding and choosing a K9 officer is a challenging road to go down but it's done. I applaud every K9 officer and human officer alike.