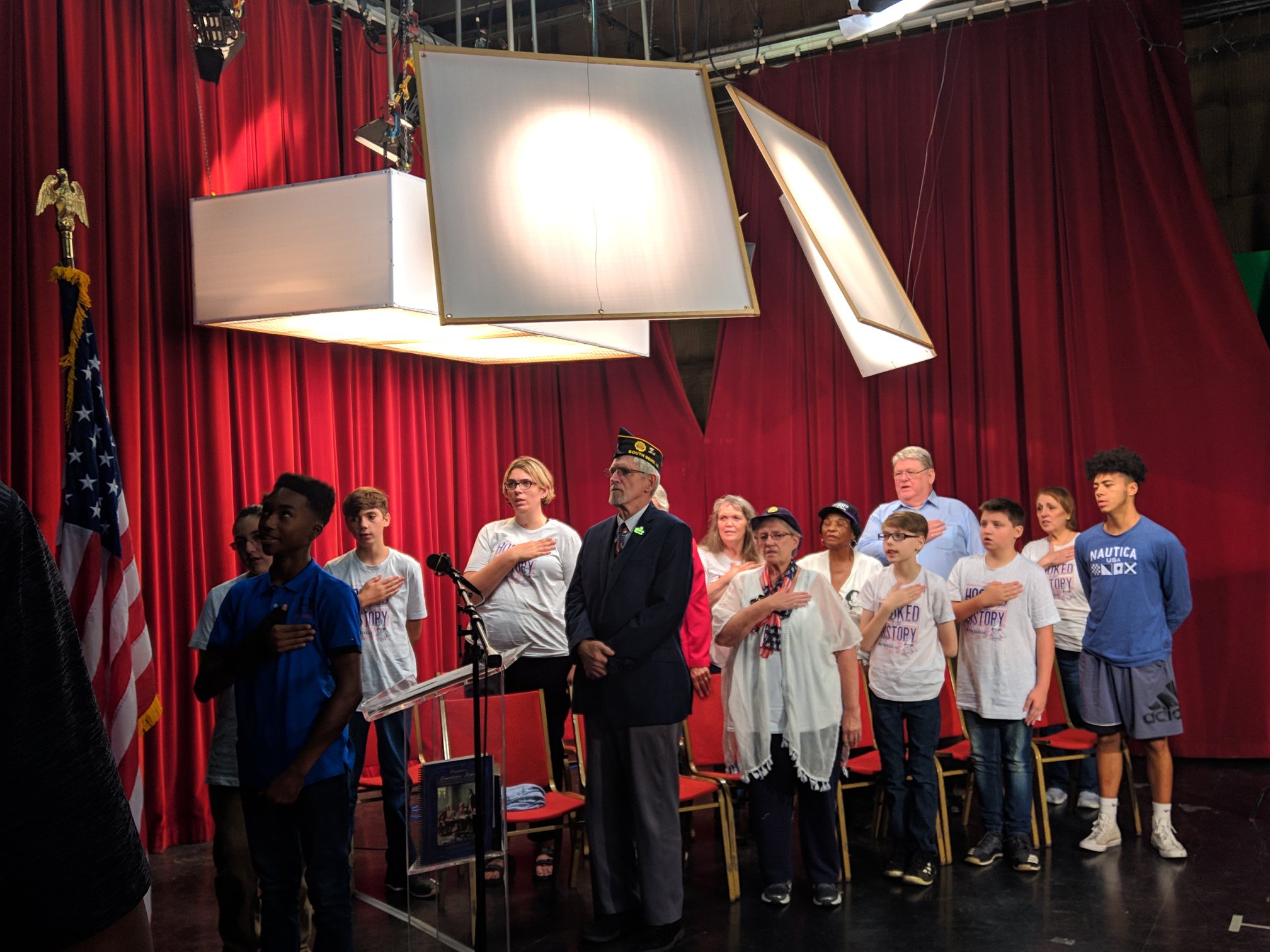 WE THE KIDS took a group of Heroes Camp teens from Mishawaka, IN into the TV studio to interview their Coach J C Cornell. Here's the message I received from PJ Perri, Executive Director of  Heroes Camp organization.
"We can not say enough good things about our experience yesterday. The kids want to do it again and asking about the next time already. Thanks for making that impact and opportunity for our youth." PJ
If you are interested in learning more about Heroes Camp please click on their name:  Heroes Camp of Mishawaka, Indiana
Heroes Camp interview with Coach Jaraan Cornell
I have never seen anything like Heroes Camp; these people are making a real difference in kids lives!  I am still in awe of what you're doing! Judy Frazier, President – We The Kids

We use the TV studio as a tool to get kids interested in learning more about History…and it works!
WE THE KIDS
WE THE KIDS would like to thank all our friends who participated in the We The Kids workshop.
Carol Nichols, Senior Society Officer of The Princess Mishawaka Society NSCAR.
C*A*R (Children of The American Revolution) showed the kids how to track their family genealogy and talked about African Americans who were in the Revolutionary War.
Author Martha Suggs-Spencer spoke to the kids about her family's connections with the Underground Rail Road, in Vandalia, MI .
Eugene Povlock (United States Marine Corps) & Auxiliary member Linda Andersen with the American Legion Post 357 spoke to the kids about the American Legion. Eugene led the kids in the Pledge of Allegiance.
&
Steve Green, Cherrlyd Connors, Deborah Frazier and the WTK kids
Who are our wonderful We The Kids volunteers
A special thank you for this years sponsors:
Troyer Group, Mishawaka, Indiana
Kroger Company Western Ave, South Bend, IN
Domino Pizzas, Edison Ave, Mishawaka, IN
Devisser Landscape Services, Kalamazoo, MI
Hacienda South Bend, Indiana
APPROVED BY WE THE KIDS MOMS!