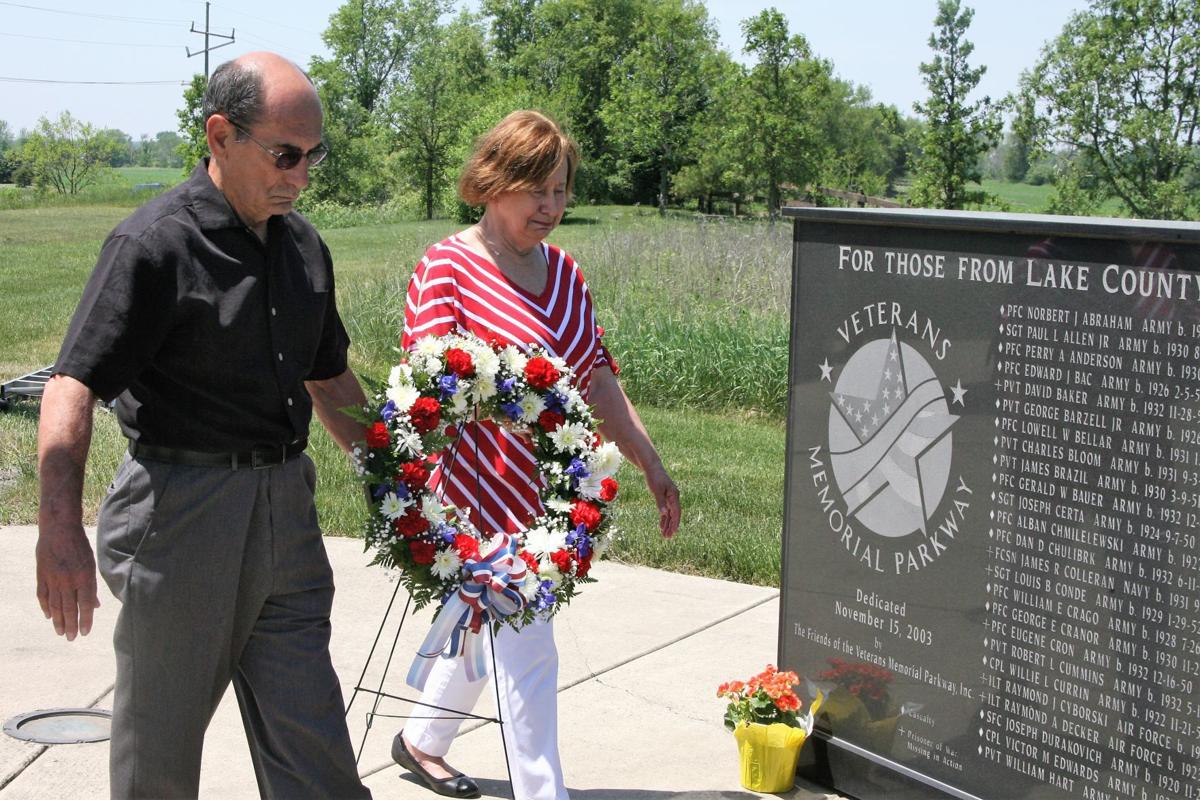 Steve Euvino Times correspondent, May 28th, 2018

LEROY — For Mike Easton, the wartime death of his brother has left "a big hole in my heart that's still there."
Easton and his sister, JoAnne Tubbs, laid a wreath Monday at the Lake County Korean War Veterans Memorial in honor of their brother, Joseph Kresno, and cousin, Branko Kotur, two Gary men both killed in action during the Korean War.
"We honor the veterans who paid the highest price," said Easton, a Valparaiso resident, "but we overlook the mothers and fathers and families who paid a helluva price."
Easton was about 8 when his family received the news that his older brother was killed in Korea on April 22, 1951. Less than a month later, Kotur was killed on May 18, 1951.
Kresno, who joined the Army early, was 18 when he died. Kotur was in his 20s. The two are buried side-by-side in Gary's Oak Hill Cemetery. Kresno had attended Emerson High School. Kotur, a Lew Wallace graduate, had entered the Marines.
"Joe was my big brother," Easton recalled. "He took me fishing for the first time. He taught me how to ride a two-wheel bike. You remember that stuff all your life."
When the family received news of Kresno's death, "my mother broke down," Easton said. "Us kids did not understand what was happening and didn't understand until later."
Tubbs, a Crown Point resident, still remembers when soldiers came to report her big brother's death.
"It was horrible. It was so dramatic for me," said Tubbs, who was 6 at the time. "I hid somewhere, because my mother was so upset."
Tubbs recalled her late brother worked the soda fountain at a local shop. "He made me a big sundae, and I'll never forget that," she said.
Easton described his cousin as "your typical steelworker's kid, growing up in Gary, a little more ethnic."
Preparing for Memorial Day, Easton noted, "Most people today don't know anything about the Korean War. We lost 34,000 killed, plus this was one of the most bitter cold wars, getting down to 20-30 below zero."
In his last letter home, Kresno described how, despite being out of ammunition, he survived a charge by North Korean forces.
"All people know about Korea is 'M*A*S*H,' which was a comedy," Easton said. "Korea was not a comedy to the soldiers who served and the parents who lost sons."
The Korean War lasted from June 25, 1950, to July 27, 1953, during which 6.8 million American men and women served. According to government figures, the Korean War era resulted in 54,200 U.S. deaths, 33,700 of them on the battlefield.
"My brother, who was 18, never had a chance to live," Easton said. "There are nieces and nephews I'll never know because he was killed."
Kresno was killed during the Battle of Imjin River, the largest battle of the Korean War. He and his cousin are among 101 Lake County residents listed at the memorial.
"Today, it feels worse, not better," Tubbs said. "I realize, soldiers put their lives on the line. So many people don't realize those sacrifices."
WE THE KIDS TEAM