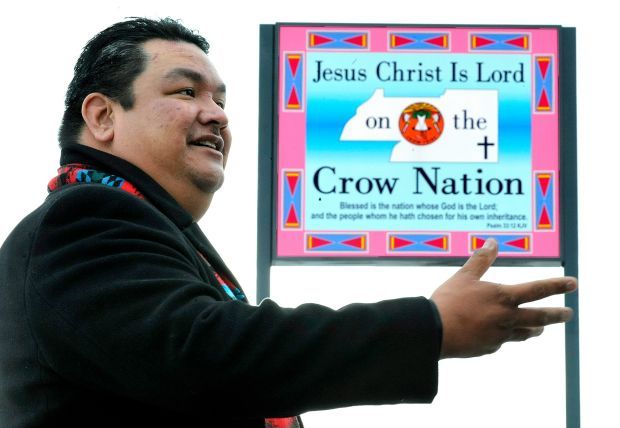 January, 03, 2020 Permission to re-posted by Alyssa Small
Billings Gazette, Billings, MT
The Crow government wants the world to know the name of its God and has erected a sign along Interstate 90 to declare it.
The message, "Jesus Christ is Lord on the Crow Nation," is proclaimed on a new, 33-foot illuminated sign in Crow Agency, which shares the image of the tribal seal. It was funded by the tribe.
Tribal officials and religious leaders hailed the sign during a ceremony Tuesday as a declaration of belief and a standard against the social and economic ills that have plagued the tribe.
"Within our nation there is a struggle of peace," said A.J. Not Afraid, tribal secretary. "This is part of the foundation to initiate peace, initiate joy, initiate happiness."
"Today we lift up the name of Jesus," said legislator Conrad J. Stewart. "We have a sign that is supported by the government that will not be moved, that will not be taken down."
The support was declared in 2013, when the Crow legislature unanimously passed a resolution that proclaimed "Jesus as Lord" of the tribe and authorized support for construction of a sign bearing the message. One legislator abstained.
The Crow Constitution protects "full exercise of religion," but, unlike the U.S. Constitution, does not contain a clause that prevents the government from the establishment of religion.
"As a sovereign nation, we're not bound by separation of church and state," said Stewart, who penned the resolution. "People are afraid to say, 'Jesus,' in the political arena, but we did it today, as a people."
Around 50 people stood on icy ground in Henrietta Park on Tuesday to dedicate the sign, sing hymns and pray. Many more sat inside vehicles parked in a semicircle around the stage, honking alongside the occasional chorus of applause and "amen."
The sign replaces an old, plywood sign with the same message that members of the Crow Revival Center created at the location more than 20 years ago, Larry Little Owl, the center's senior pastor, recounted in his remarks.
That sign was removed several years ago, but Little Owl said he isn't sure who did it or why.
Stewart said in an interview that the resolution, and its provision to reinstall the highway sign, had topped his agenda after being elected to the legislature.
"I've always wanted to plant a seed of faith in our government," he said.
In his remarks, Tribal chairman Darrin Old Coyote thanked Crow religious leaders for their support and said the sign would bring blessings to the tribe.
"There's a saying among the Crow people that words are sacred," he told the audience. "When people drive by, this is what they're saying," Old Coyote continued, gesturing upward.
"While they're going by, they're blessing the Crow people," he said.
Stewart went further, saying that drivers who read the sign may make a kind of "verbal confession," intentionally or not.
"Southbound and northbound, we'll have people that don't believe in Jesus that are declaring and proclaiming, with their mouth, that Jesus is lord over the Crow nation," Stewart said.
For others, he said, the message may renew their spirituality.
"It's going to water that seed, and it's going to bring them back to Christ," he said.
Faith has taken a more prominent role in Crow governance of the last few years, since Old Coyote's administration established a pastoral committee of local religious leaders.
The committee's charge is to assist in tribal affairs through prayer, said member Janice Speelman. Earlier this year, for instance, the committee organized a week of ceremony, including a day of prayer, in response to a cluster of deaths of tribal members. It hopes to expand its services and programs in the future, perhaps as a nonprofit organization.
Speelman said the committee's creation is a recognition that "money is not going to solve all of our problems."
Stewart said that, while the tribe's public profession of faith could be seen as controversial, it isn't intended to make non-Christians, including those who observe traditional Native American spiritual practices, uncomfortable.
"Some people may not believe in the name of Jesus," he said. "That's fine, we don't put that down."
"We're taught by elders to respect all religions," Stewart said.
Of the sign, Stewart said he is proud. Its dimensions — the poles stand 33 feet tall and 5 feet below ground — came to Stewart in prayer, he said, and align with elements of biblical scripture.
"This is more than just a sign," he said. "What other nation puts a name to their God?"