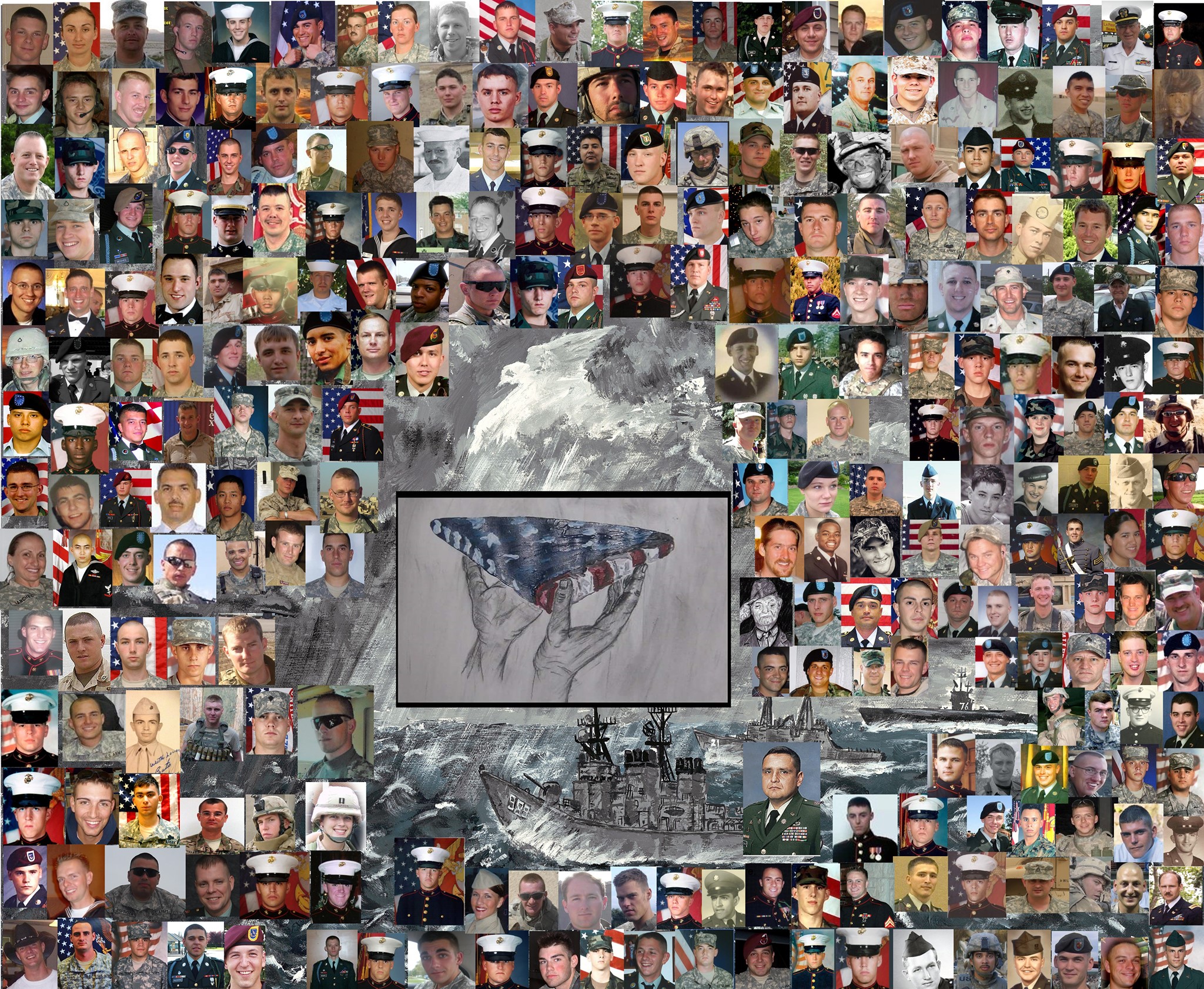 WTK Bringing The Constitution and American history back to life for our children through our children.
CLOUDS

OF

HEROES

 
Jose Garcia Acosta:  Perhaps you woke up and had a cup of coffee like any other morning. The sun rising, but you really did not notice. For this morning is like any other to you. Think about this. On these 6 canvases of the painting CLOUDS OF HEROES, are the sons, daughters, husbands, wives, mothers and fathers of many. They all got a call or knock upon their door one day and after that, every morning was not the same. Every sunrise was not as bright. Every cup of coffee was shared with tears. Please do not forget our Fallen Heroes and the Gold Star Families that know too well the price of Freedom. These are the 6 canvases of the CLOUDS OF HEROES. Please share and tag as you can. I promised all GOLD STAR families I will till my last breath, do all I can to ensure their heroes are not forgotten. I also promised that I will keep adding heroes to join the others as long as I breathe. I have bought the 7th canvas and shall start on that tonight. GOD BLESS OUR TROOPS, Past, present and those that gave all.
With all my respect, GSMC (SW) Jose G. Acosta United States Navy D.A.V.
https://www.facebook.com/josethewriter
Please take a moment to welcome to the
Captain Jesse Ozbat
Thank you Jose Garcia Acosta from all of us at
We The Kids
 But they that wait upon the LORD shall renew their strength; they shall mount up with wings as eagles; they shall run, and not be weary; and they shall walk, and not faint.
WE THE KIDS WALL OF HEROES !

The Federalist Papers:Remember our Veterans with four legs today, too!
WTK HONORING OUR VETERANS
Cat  Hammes:I am proud to be an American, I am grateful I have the freedoms that many fought and died for! Thank you so much for all that you have done to secure my freedom! I am proud to be an American, I am grateful I have the freedoms that many fought and died for! Thank you so much for all that you have done to secure my freedom!Simone Harris: Our friend from the UK wrote: In just one and a half hours, in this country, many will be observing that special two minutes of silence in remembrance of those who fell during the course of their duties………. Let us hope and pray that not one of them died in vain.  We honour them…….. we remember them.
Tracey Mendenhall Porreca:  In honor of Veteran's Day I've posted one of my old Navy photos. Come y'all – post yours as well! And everyone – please honor in your own way all those who have served past and present. God Bless our troops!
Joe Scioli:  REMEMBERING ALL OF OUR FALLEN HERO'S AND THEIR FAMILIES TOO……GOD BLESS YOU ALL….AND GOD BLESS THE GOOD OLE U.S. OF A……..STILL THE LAND OF THE FREE……AND HOME OF THE BRAVE!!!!!!!!!!!!
Lindsey Farkas:  I am thankful for the brave men and women who have fought to protect our rights and freedom. Happy Veteran's Day and God bless you :)
Bart Fey: Everyone can stand proud to realize fully that it is because of our veterans we can exercise our freedom of religion…and because of a veteran our freedom of speech…and because of a veterans our freedom to peacefully assemble and our right to "keep and bear arms"…in fact all our freedoms we enjoy are because of our brave veterans by the millions who were willing as A. Lincoln said, "To give their last full measure." Remember to thank a veteran every day of your life..for it is because of them that "we live and breathe..and have our being."
William Mcrea:  A thank you is never enough but if its given with respect and feelings its the next best damn thing. 
Al Ritter: Thanks to all that serve……yours holds a special place in our hearts for freedom
Red Hot Rebel: 750,000 men died in the second American Revolution. Families were large in those times…. This means that many millions were left saddened and lives altered forever…May the Lord rest their souls.
Jerry D. Slay:  I am proud to have served my country for 25 years. I am also proud of my sons and my daughter-in-law for their service. Between the four of us, we have a combined total of 48 years service. May God bless America and may America bless God!!!
Earl Powell: Amen