We The Kid's goal is to help lead the way by supporting our President and his Executive Order on Establishing the President's Advisory 1776 Commission to return history to American schools.
"By the authority vested in me as President by the Constitution and the laws of the United States of America, and in order to better enable a rising generation to understand the history and principles of the founding of the United States in 1776, and, through this, form a more perfect Union, it is hereby ordered as follows: https://www.wethekids.us/executive-order-on-establishing-the-presidents-advisory-1776/ "

President Trump supports the mission of We The Kids…You can, too!
We depend on your support to fight for freedom. Join us today!
Other WTK Featured Stories
Have you ever seen the movie Pearl Harbor?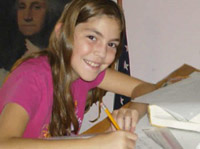 Rachel, the young lady pictured, is being home-schooled and has shown a great deal of interest in what we have been doing as we have developed this site. As such,…
Did you know…? "The 4th of July was originally celebrated as Americas Birthday?" But, the idea of an annual day specifically celebrating the Flag is believed to have first originated in 1885.
Just recently I went to the Indiana State Capital to meet with Daren Gardner.  Mr. Gardner is riding his motorcycle across America. You can read more about him at Constitution…
Happy Birthday America!!! Posted on 02 July 2010 by admin We celebrate with fireworks, ice cream, picnics, and games, but what does it all really mean. I use to think…
Signers of the Declaration of Independence – Hancock Posted on 08 June 2010 by admin Rachel Ann John Hancock was born in Braintree, Massachusetts on January 23rd, 1737. He was…